You are here
Back to top
The Mysteries of Haditha: A Memoir (Hardcover)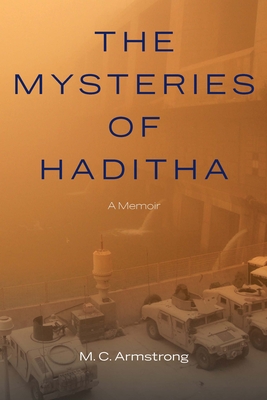 List Price: $27.95
Our Price: $26.55
(Save: $1.40 5%)
Usually Ships in 1-5 Days
Description
---
M. C. Armstrong secured his embed as a journalist with the Navy SEALs in 2008. Shortly before he left for Iraq his father asked him to tell the story no one else seemed to be telling, the story of the people sometimes constructed as our friends and other times our enemies: the Iraqis. "But what about them?" he asked. "Who's their good guy? Who's their George Washington? That's the story you want to find. Talk to them."

Armstrong's searing memories about his relationship with his father, his fiancé, and his SEAL team companion take the reader on a nosedive ride from a historically black college in the American South straight into Baghdad, the burn pits, and the desert beyond the mysterious Haditha dam. Culminating in the disclosure of a devastating secret, The Mysteries of Haditha explores the lengths Armstrong was willing to go to prove himself and to witness a truth he couldn't have prepared himself to receive. At once daring, dark, and hilarious, this memoir of M. C. Armstrong's journey pulls no punches and lifts the veil on the lies we tell each other and the ones we tell ourselves. The Mysteries of Haditha is a coming-of-age story and an unprecedented glimpse into the heart of the war on terror.

 
About the Author
---
M. C. Armstrong was embedded with Joint Special Operation Forces in Al Anbar Province, Iraq. He published extensively on the Iraq War through the Winchester (VA) Star and is the winner of a Pushcart Prize. His fiction and nonfiction have appeared in Esquire, Missouri Review, Gettysburg Review, Mayday, Wrath Bearing Tree, Monkeybicycle, Epiphany, Literary Review, and other journals and anthologies. He lives in Greensboro, North Carolina.
Praise For…
---
"What makes M. C. Armstrong's The Mysteries of Haditha so compelling is . . . its headlong, fast-burning soul search for the truth. Honest and aware, Armstrong's memoir records the rhythms of a consciousness at once personal and political, consumed by past failures but buoyed onward by an unquenchable desire for understanding."—Michael Parker, author of Prairie Fever

"The Mysteries of Haditha is a unique and fascinating book. . . . This memoir is an account of the complex mixture of motives that led M. C. Armstrong [to Iraq], as well as his attempt to make sense of a war that was rapidly changing around him, and ever obscured by a haze of glamour and horror, masculine posturing, and political machinations."—Phil Klay, author of  Redeployment, winner of the National Book Award

"I've never read a book that so thoroughly embodies E. M. Forster's advice to only connect. A riveting, heartbreaking, hilarious story of loss and discovery, The Mysteries of Haditha is the rare memoir you can and should give to anyone, friend or stranger."—James Tate Hill, author of Academy Gothic

"Riveting, sometimes madcap, often quite funny, heartbreaking, educational, and deeply humane, perhaps the greatest gift of The Mysteries of Haditha is its reminder of our shared humanity, its careful attention to the marvelous uniqueness of the human soul, and the tenacity of love."—Andria Williams, author of The Longest Night

"The Mysteries of Haditha is far more than another Iraq War memoir. Combining the travelogue, combat-zone journalism, the exposé, and autobiography, Armstrong's is a story of stories—a war of worlds as well as of narratives and genres, whose main casualties are hypocrisy, venality, and singlemindedness."—Christian Moraru, author of Reading for the Planet: Toward a Geomethodology

"In this unflinching narrative, Armstrong reveals the depth and breadth of his commitment to discovering firsthand what most Americans aren't willing to acknowledge about war—the existence of humanity within our enemy. In doing so, Armstrong shares a war story unlike any other."—Tracy Crow, author of On Point: A Guide to Writing the Military Story

"As revealing as a bomb blast, not only of war and the past, but of the lies we tell ourselves as human beings. The Mysteries of Haditha is a deadly combination of experience and exposé, written by one who has seen war firsthand and who works to uncover all its hidden secrets."—Paul Crenshaw, veteran and author of This We'll Defend