You are here
Back to top
Barefoot to Benefactor: My Life Story of Faith and Courage (Hardcover)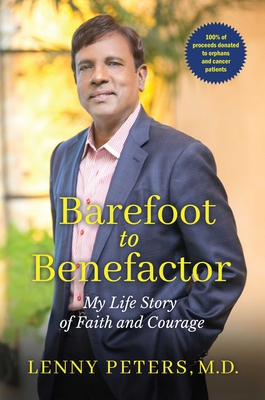 $28.00

Usually Ships in 1-5 Days
Description
---
An Asian American immigrant's journey from poverty in India to the heights of the medical profession in America—and the faith that made his accomplishments possible.

When Lenny Peters was a boy playing marbles among the lush mangrove trees in impoverished India, he had one overriding wish: to be the best at everything he did. Born into a Christian family and part of a minority population in that part of the world, Lenny was innately aware of the hurdles he faced. Wise beyond his years, Lenny embraced a simple philosophy: hard work and prayer. He could never have imagined how far his faith and his drive for excellence would take him, nor how much good he would do along the way.

In Barefoot to Benefactor, Lenny tells the uplifting story of how the youngest son from Kerala, India, worked his way into medical school, propelled himself to London, and settled in North Carolina as an accomplished physician. Not satisfied with providing standard medical care, Lenny became a world-class researcher and founded the Bethany Medical Centers, a revolutionary network that treats anyone who walks through its doors with the best that medicine can offer.

Wonders followed Lenny as faith determined his path. He turned a community college course in personal finance into a vast real estate empire and thriving medical practice. His fascination with business led him not only to establish much-needed health and research facilities, but to establish a bank for underserved communities that now operates in four states. Through it all, he battled the prejudice he encountered as a professional man of color with a "funny accent," turning every hardship into opportunity and learning that forgiveness and acceptance bestow grace.

Most importantly, Lenny has never forgotten his roots. The Lenny Peters Foundation shares his abundance with the less fortunate, both here and in India. His story of trailblazing in medicine, finance, and philanthropy is proof that miracles come to those who have faith—in God and in themselves.
About the Author
---
After obtaining his M.D. and practicing medicine in the United Kingdom and Africa, Lenny Peters came to the U.S. and founded the Bethany Medical Center in High Point, which has grown from a single clinic in 1987 to the largest independent medical group in North Carolina.

Peters served as the founding director of Bank of North Carolina, later part of Pinnacle Bank, and as co-chairman of the board of directors for Carolina State Bank. He has served on the boards of the Piedmont Triad Partnership, Forward High Point, and Business High Point Chamber of Commerce. The Lenny Peters Foundation provides charitable grants and donations to needy individuals in the Piedmont Triad, and to many other charity organizations in the U.S. and around the world.
Praise For…
---
"Lenny Peters' faith shines through on every page of his book. It's a faith that can buoy us through the obstacles that keep us from manifesting our life's work, just as it has done for Lenny."
— Anthony Atala MD, Professor and Director of the Wake Forest Institute for Regenerative Medicine and Chair of the Department of Urology at Wake Forest School of Medicine in North Carolina

"It's so refreshing to read the life story of a man who learns, aspires and finds creative ways to do good in the world. His faith in God and in others has led to great accomplishments, yet he remains rooted in his humility and generous desire to give. Dr. Peters' memoir encourages our faith and resilience. That is his gift to us."
— David Mounts, Chairman/CEO, Inmar Intelligence

"I dare anyone to read Lenny Peters's life story and not come away with a renewed sense that anything is possible when we believe. A true original, Lenny will inspire you to be your best self."
— Roy E. Carroll II, Owner and CEO, The Carroll Companies

"A wonderful book! Lenny Peters has led a remarkable life that can motivate us all to stay connected to our faith and our communities."
— Derek L. Ellington, Managing Director, Business Banking, Atlantic-South Region Executive, Bank of America

"I have often wondered how Dr. Lenny Peters acquired his business acumen, his healing abilities, and his compassion for others—and through his generous memoir, now I know. With his trademark self-deprecation and large-hearted spirit, Dr. Peters relates a life full of blessings that he never takes for granted."
— Rick Callicutt, Chairman, Carolinas and Virginia Pinnacle Financial Partners