You are here
Back to top
The Drunken Botanist: The Plants That Create the World's Great Drinks (CD-Audio)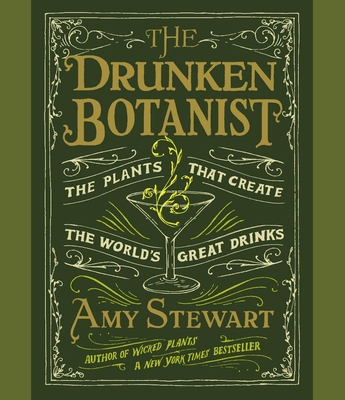 $34.95
Email or call for price.
Description
---
Every great drink starts with a plant. Sake began with a grain of rice. Scotch emerged from barley. Gin was born from a conifer shrub when medieval physicians boiled juniper berries with wine to treat stomach pain. The Drunken Botanist uncovers the surprising botanical history and fascinating science and chemistry of over 150 plants, flowers, trees, and fruits (and even a few fungi).

Some of the most extraordinary and obscure plants have been fermented and distilled, and they each represent a unique cultural contribution to global drinking traditions and our history. Molasses was an essential ingredient of American independence when outrage over a mandate to buy British rather than French molasses for New World rum-making helped kindle the American Revolution. Captain James Cook harvested the young, green tips of spruce trees to make a vitamin C-rich beer that cured his crew of scurvy—a recipe that Jane Austen enjoyed so much that she used it as a plot point in Emma.

With over fifty drink recipes, growing tips for gardeners, and advice that carries Stewart's trademark wit, this is the perfect listen for gardeners and cocktail aficionados alike.
About the Author
---
COLEEN MARLO was named Publishers Weekly's 2010 Audiobook Narrator of the Year. Marlo is a two-time nominee for the prestigious Audie® Award, and has received three Listen Up Awards from Publishers Weekly. She is a member of The Actors Studio.
Amy Stewart is the award-winning author of six books on the perils and pleasures of the natural world. She is the cofounder of the popular blog Garden Rant and is a contributing editor at Fine Gardening magazine. She and her husband live in Eureka, California, where they own an antiquarian bookstore called Eureka Books.
Praise For…
---
"A rich compendium of botanical lore for cocktail lovers."
—Kirkus
"Amy Stewart has a way of making gardening seem exciting, even a little dangerous."
—New York Times
"Coleen Marco narrates . . . with gusto while respecting the informative nature of the material. She is delightfully entertaining. . . . This title is bound to entertain imbibers as it informs."
—AudioFile
"Lest you think this is for the imbibers only, a teetotaler foodie, gardener or naturalist will be just as intoxicated by the dashing wit and detailed lore."
—BookPage
"A quirky new compendium of the plants that have been picked, muddled and crafted into drinks. . . . As much an around-the-world tour of global spirits as a gardener's guide to growing boozy botanicals."
—Forbes
"A fine listen that brings to life the world of botany by connecting plants with human dietary choices and the evolution of liquor."
—The Bookwatch
"A most enjoyable way to learn just what's in one's favorite cocktail or bar drink, and is a great source of anecdotes to liven up a party!"
—Library Bookwatch
"Informative and enjoyable listening, especially with Coleen Marlo's lively reading."
—Library Journal